Patron Stories
Steve & Diana Abbott
My name is Steve Abbott and along with my company Monteverdi Tuscany, I am a proud supporter of LCF. In July 2013, I scheduled a variety of doctor's visits, some of which I was overdue for at the time. My father had previously been diagnosed with prostate cancer, and I was strongly advised to begin annual PSA screenings at age 50. I scheduled an appointment with a urologist only to learn that I already had an asymptomatic case of advanced prostate cancer. Many treatments later, my cancer is metastatic and incurable, yet I maintain hope due to the work being done by cancer charities like LCF and the research being done in laboratories and clinical trials around the world.
Shortly after my diagnosis, my wife Diana was diagnosed with a triple negative, invasive ductal carcinoma; an aggressive form of breast cancer. At that point, we switched caregiver roles. She had 16 chemotherapy and 30 radiation treatments over the course of a (long) year but thankfully, she is recurrence-free four years following the conclusion of her treatment.
During this time, we have celebrated remissions and cures with fellow patients, and wept with the families of others that have been lost to this hideous disease. We support organizations like LCF because Diana and I see a future where cancer will either be curable or, at worst, a chronic, treatable disease. This dream can be a reality due to organizations like LCF and other cancer charities.
Corey Lee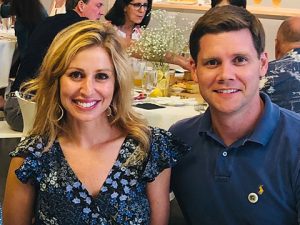 August 18, 2017 was the worst day of my life. I was one week from my 37th birthday and had just been diagnosed with breast cancer. The next year of my life was so complex, with moments of both despair and hope along the way. After meeting with surgeons and oncologists, I elected to have a double mastectomy. After surgery, I learned that the cancer was found early and that I was Stage 1, which was great news. However, the pathology showed that I had an aggressive form of breast cancer and that I needed chemotherapy in order to decrease my chances of recurrence. To me, the scariest part of chemo was losing my hair. It was such a part of my identity. A fellow survivor told me about a possible way to keep my hair called "cold capping," a little known, costly technology that worked by narrowing the blood vessels beneath the scalp and reducing the amount of chemotherapy that reaches the hair follicles. My cancer center knew nothing about cold capping and I soon learned that my Insurance wouldn't pay for it. Regardless, my husband and I embarked on the emotional, expensive journey of cold capping. When it was all said and done, I'd kept over 90% of my hair. I realize that beauty and resolve all comes from within. No experience teaches you that more than battling cancer. But, the "victory" of keeping my hair boosted my morale and spirit to keep fighting. The Lexington Cancer Foundation is now funding scalp cooling systems at numerous hospitals around the Bluegrass in an effort to give a better quality of life to men and women fighting cancer.
Leslie Keller-Biehl
I am so grateful for the free Jin Shin Jyutsu at UK Markey Center with Jennifer Bradley, provided through funding from LCF.
I started my ovarian cancer journey about 18 months ago. Calming the mind and body are very important in managing stress and pain when you have cancer. Jennifer, along with the staff at UK Integrative Medicine & Health, is phenomenal. I was experiencing very painful mouth sores from my chemo treatment and she shared with me techniques to help with the pain. As the development manager for LexArts, I need the use of my voice. I talk a lot!
Occasionally I will have an upset stomach from the supplements I need to take. Following some of the techniques Jennifer has taught me have helped to lessen those issues. I recently was having pain between my ribs—not sure if it was from a spill on my bike, or something else. After seeing Jennifer, the pain IS GONE!
Cancer creates a financial burden. There are many things insurance does not cover, like supplements, nutrition and alternative healing treatments. These can cost over $500 a month. Thank you to LCF for making this accessible to everyone!
To read more about how funds from LCF are used throughout Kentucky, click here to view our past newsletters.