Kentucky Bluegrass Wine Auction & Derby Gala
2022 Vintner Information
Kentucky is truly a unique place to visit, especially during the week of the Kentucky Derby! And guests from all over the world come to Kentucky to participate in the Kentucky Bluegrass Wine Auction & Derby Gala. The night begins with an exclusive vintner pouring and Silent Auction, followed by a Dinner and a Live Auction. If you have not joined us in the past for this unique event, please consider adding us to your calendar this year. There are many wonderful reasons to participate in our growing Auction:
Over 16 million raised for cancer in eight short years, with 550+ guests in attendance each year
90 percent of the Auction proceeds go to improving the lives of cancer patients and their families
Auction patrons are high net worth individuals with an interest in wine, who reside all over the United States and internationally
Opportunity to increase clientele and sales
55 Degrees donates the storage of wine for the Auction, making it easy to get your wine to Kentucky
Participants have exclusive opportunities to access behind the scenes horse farm tours, and more!
Meet 2021 Vintner Chair Emma Swain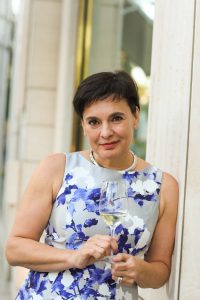 When Emma joined St. Supéry Estate Vineyards & Winery and became C.E.O. in 2009, she was impressed with the strengths of the people, the matchless property, and the rich history of the estate. "The estate was founded with a strong sense of passion, unyielding integrity, and long-term dedication to winemaking and viticulture, all qualities I hold dear."
The winery is known as one of California's top hospitality wineries, in person and online. "Not everyone can travel to St. Supéry Estate, so we go to them. We've embraced social media as another way to go to our customers and respond quickly to their needs. You choose how you want to meet us. We are available by phone and email and a wide array of social media platforms. We hold events across the nation in person and enhanced by social media. It allows customers, retailers, and distributors to share the St. Supéry Estate experience with the people who make these wines and deliver them to your table."
Past Vintners
2019 – Jack Bittner, OVID. Napa Valley
2018 – Carter Cellars – Sherri and Mark Carter
2017 – Sinegal Estate – Shelley and David Sinegal
2016 – Memento Mori – Adriel Lares, Hayes Drumwright and Adam Craun
2015 – The Mascot, Will Harlan, Jr.
2014 – Quintessa – Agustin Huneeus, Sr.
2013 – Duckhorn Vineyards- Dan Duckhorn
2012 – Charles Krug Winery- Janice and Marc Mondavi
2011 – Blackbird Vineyards- Michael Polenske
2010 – Revana Family Vineyards- Dr. Madajah Revana
2009 – Oakville Ranch Vineyards- Paula Kornell
2007, 2006, 2005 – Jackson Family Wines – Barbara Banke and Jess Jackson
Past Participating Wineries
Acacia Winery
Alexander Mountain Estate
Alpha Omega Winery
Araujo Estate
Arezzo
Arkenstone Estate Winery
Arrow & Branch
Ashe Family Vineyards
B. R. Cohn Vineyards
Barbour Vineyards
Barnett Vineyards
Barrage Cellars
Bien Nacido Estate
Black Stallion Estate Winery
Blackbird Vineyards
Bond Estate
Booker Wines
Bucher Estate
Caldwell Vineyards
Capture Wines
Carter Cellars
Caymus Vineyards
Charles Krug Winery
Château Boswell/Jacquelynn
Château du Tertre
Château Giscours
Château St. Michelle
Church Estate Vineyards
Clos du Val
Colgin Cellars
Continuum Estate
Cruse Wine Company
Dana Estate
Darioush Vineyards
Domaine Serene
Dominus Estate
Duckhorn Wine Company
Elizabeth Spencer Wines
Envy Wines
Far Niente Winery
Ferrari-Carano Winery
Fisher Vineyards
Flowers Vineyards & Winery
Frias Family Vineyards
Frog's Leap Winery
Gamble Family Vineyards
Gary Farrell Vineyards & Winery
Grigich Hills Estate
Hall Wines
Harkness Edwards Vineyards
Harlan Estates
Hess Collection
Hirsch Vineyards
Honig Vineyards and Winery
Hourglass
Husic Vineyards
JACK Vineyards
Jackson Family Wines
Jean Farris Winery
Jonata
Jones Family Vineyards
Judd's Hill Winery
Justin Vineyards and Winery
Kamen Vineyards
Keever Vineyards
Kendall-Jackson Vineyard Estates
Kenefick Ranch Vineyard and Winery
Ladera Vineyards
Lail Family Vineyards
Magnanimous Wine Group
Memento Mori
Mer Soliel
Merry Edwards
Morlet Family Vineyards
Mountain Door
Myriad Cellars
Nine Suns
Oak Ridge Vineyards
Oakville Ranch Vineyards
Ovid. Napa Valley
Palmaz Vineyards
Paradigm Vineyards
Paraduxx
Peju Winery
Post Parade
Pride Mountain Vineyards
Quintessa
Realm Cellars
Red Mare Wines
Reeve Wines
Revana Family Vineyards
Reynolds Family Winery
Robert Biale Vineyards
Robert Foley Vineyards
Rodney Strong Vineyards
Rombauer Vineyards
Roy Estate
Saintsbury
Schramsberg Vineyards
Silver Oak Cellars
Sinegal Estate Winery
Skipstone Ranch Vineyards
Solomon Hills Estate
Somnium Wine
Spottswoode Estate Vineyards
St. Supéry Estate Vineyards and Winery
Stone Fly Vineyards
Stonestreet Estate Vineyards
Switchback Ridge Vineyards
Tenuta Sette Ponti
Terranuova Bracciolin
The Mascot
Tor Kenward Family Vineyards
Tuscany Tenuta Di Trinoro
Tusk Estates
Twomey Cellars
Tyrus Evans
Vangone Estate
Vineyard 29
Vineyard 7 & 8
Wagner Family of Wine
Westerley Wines
Zachys Wine Auctions
Zahtila Vineyards
Ziata Wines